Termite Fumigation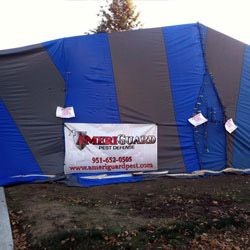 In situations where drywood termites are inaccessible to secondary methods, tenting your home or business is a guaranteed method to ensure complete eradication of termites.
According to UC Berkeley, approximately 100,000 fumigations are performed annually in California. The costs for drywood termite control and drywood termite damage exceeds over $300 million each year and is expected to increase. Fumigation for termites is a complete method to get rid of termites. The fumigant fills every air space in the structure and eliminates every termite. Scientists have shown that fumigation is a reliable and complete method for elimination of infestations of drywood termites and other pests such as wood-destroying beetles and bed bugs.
Vikane & Chloropicrin – Total Termite Control
Vikane (sulfuryl flouride) is a colorless, odorless, tasteless gas and is undetectable. For this reason, a small quantity of chloropicrin is added to the gas as a warning agent. This warning agent ensures that the structure is free of occupants. This additive is required in the use of structural fumigations to help protect homeowners and others involved in the fumigation procedure. Vikane is the preferred gas agent for fumigation as there is no residue behind after the tenting process has ended.
Mega Fume, Southern California's Best and  Largest Fumigator
AmeriGuard Pest Defense uses Mega Fume Inc. for all fumigation services. Mega Fume prides itself on the use of "state-of-the-art equipment, quality craftsmanship and exceptional service". Mega Fume eliminates the worries commonly associated with fumigation, while quickly and efficiently helping with clients requests and issues, making sure that each customer is satisfied.
Termite Fumigation Preparation
It is your responsibility to help prepare your home for a termite fumigation. Taking the following steps prior to fumigation helps ensure a successful fumigation, resulting in the elimination of drywood termites from your structure.
On the day before fumigation:
Water and cut back foliage, shrubbery and landscaping at least 18 inches from the structure to allow room for the tarps.
Make overnight arrangements for people and pets as a typical fumigation takes three days and two nights.
On the day of fumigation:
Remove all plants from your home, including those on outdoor patios.
Evacuate all people and pets from the structure.
Remove mattresses completely enveloped in plastic, such as baby mattresses with waterproof covers, or remove the covers themselves.
Remove or double-bag any food, feed, drugs and medicinals in special Nylofume bags your fumigator provides. You do not need to bag or remove items in plastic, glass, or metal bottles, cans of jars with the original manufacturer's airtight seal intact.
Seal the Nylofume bags one at a time by twisting the tops, or folding down and sealing with tape, twisty ties, string or rubber bands. DO NOT TIE BAGS IN A KNOT. Your fumigator can provide special instructions on proper bagging procedures for you.
Double-bag cold and frozen foods and leave them in the refrigerator and freezer to make it easier to stack the bags inside.
Be sure to remove or double-bag anything that will be ingested (medicine, spices, etc.)
Fumigation Bagging Information
After the Fumigation:
The average structural fumigation lasts 24 hours, with a 12-hour aeration period. The structure will then be certified for re-entry.
HOA, Multi-Unit Dwellings, Commercial & Industrial Fumigation
In addition to residential fumigations, AmeriGuard also provides large-scale termite tenting services in Southwest Riverside county. Our termite inspector will walk the grounds of the property with you during the termite inspection, advising you of signs of termite activity and other indications of termite infestations. After your commercial or industrial building has been inspected, we will gladly meet with occupants and property management companies to explain the termite fumigation process to them.
Fumigation Logistics
AmeriGuard is here to make your fumigation easy to deal with. In addition to fumigation services, we also provide logistics for large scale fumigations like transportation, hotel accommodations and meal vouchers to minimize inconvenience to you. Choose the total termite solution, choose AmeriGuard Pest Defense.